Trust Wallet: Review, App, Fees, Staking, Tokens and Private Keys
Trust Wallet: Download from the official website, how to withdraw and add tokens.
In this guide, you will learn how to download and add / withdraw tokens from Trust Wallet and if Trust Wallet exists for Windows and computer.
Download for Windows / Linux
Download from site Download from Google Play
What is Trust Wallet?
Trust Wallet - is a cryptocurrency wallet designed as an app for Android and iOS smartphones. Works with tokens developed on Ethereum and Binance blockchains: ETH, ERC20, ERC 22, BEP2 BEP20. Has an intuitively simple and straightforward interface. Uses its own local currency TWT.
Is there a Trust Wallet for a windows computer?
At the moment, there is not only a mobile version of the program, but also a desktop one. However, it is available exclusively for the Mac OS operating system. The program for Windows and Linux is still in development. It is not yet available for ordinary users. PC and Windows versions do not currently exist. You can download the wallet directly from the markets on your mobile phone.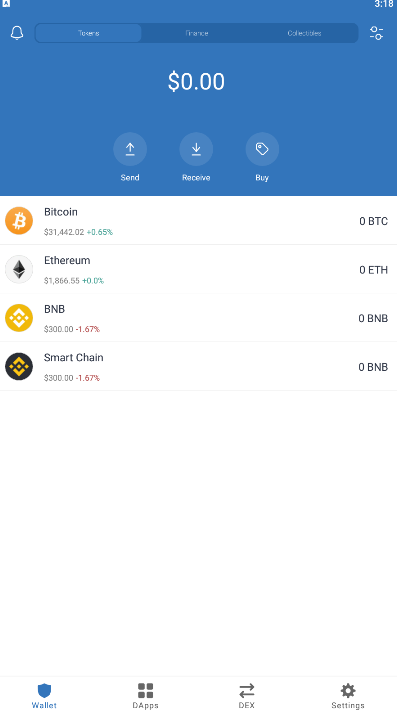 Wallet overview
Trust Wallet became part of the Binance ecosystem back in 2018. The program has a number of features for which users love it so much:
Storing private keys on local devices.
You can quickly restore access by performing a backup.
Has a built-in Web3 browser so that you can work with decentralized applications.
Can connect to Binance DEX to buy and sell digital tokens.
Complete anonymity. Are not required anywhere KYC and the provision of personal data.
The source code is open to everyone. At the same time, the company constantly conducts an independent security audit in order to reduce the risks of hacking.
You can import other cryptocurrency wallets.
How to Withdraw Money From Trust Wallet
How to deposit
To receive funds, click the "Receive" button. A QR code will appear here that needs to be sent to the user. You can also just copy the wallet address and top up it.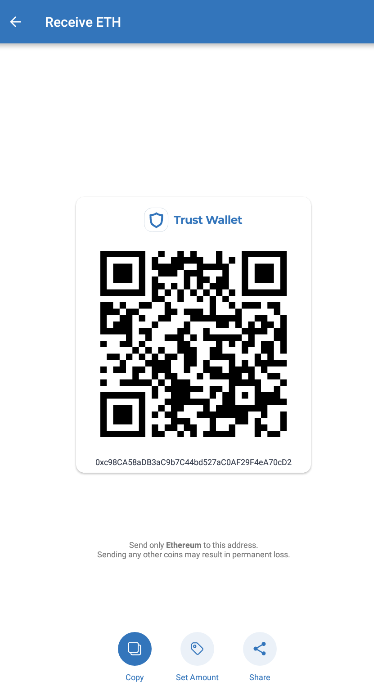 Here you can use the payment request function. The application will make a public link where the receiving address is indicated. Also, the user can deposit a specific amount. The link is not only transmitted to other network members, but also published on social networks and instant messengers.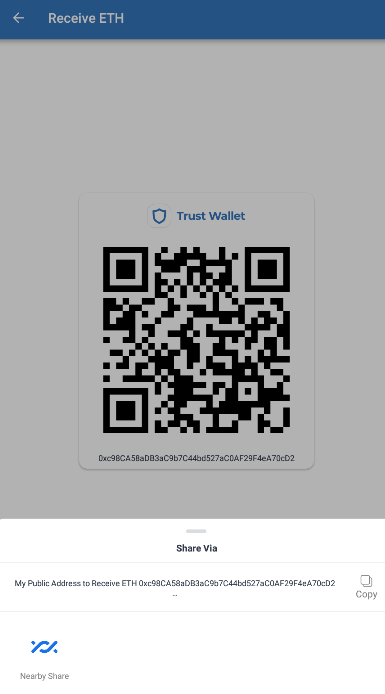 How to deposit or withdraw on Trust Wallet - Bitcoin app tutorial
How to use
First of all, you need to download the wallet to your device. To do this, go to the Play Market or App Store. Type in the name of the wallet into the search box and download it to your smartphone. You can download it on a PC with the Mac OS operating system directly on the official website.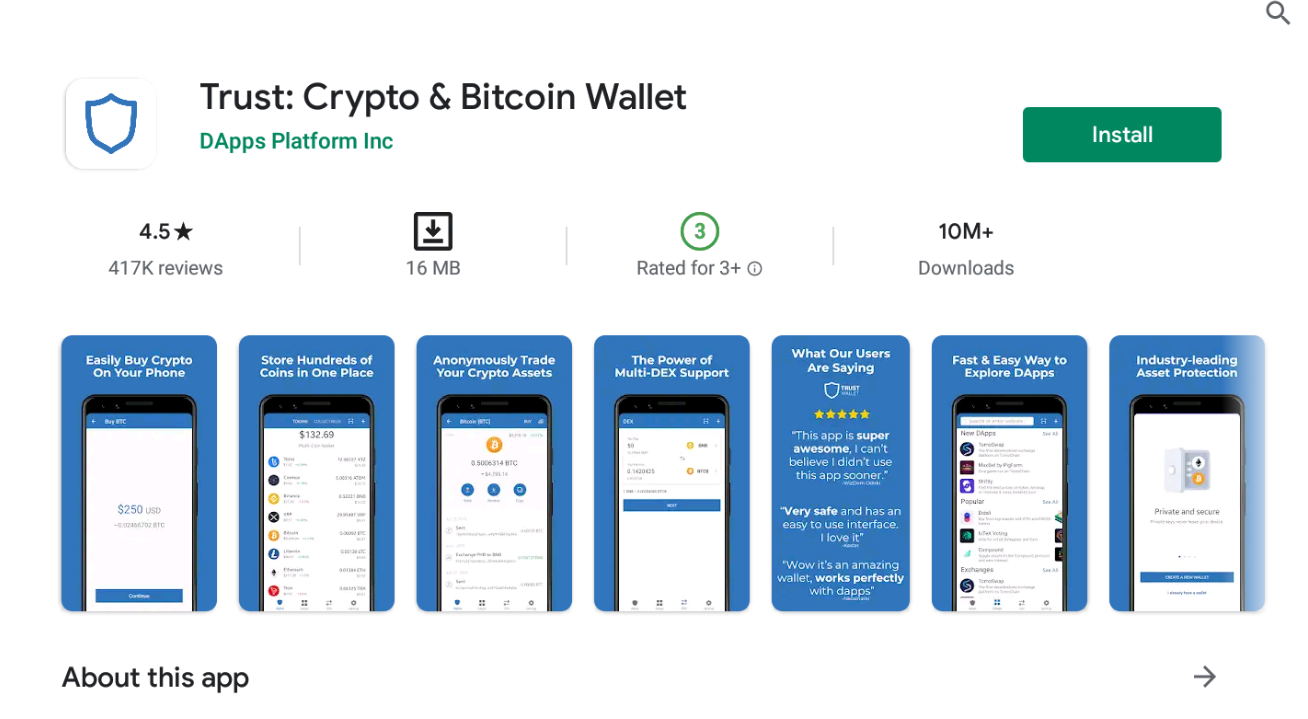 Click "Install" and wait while the app is downloaded and installed on your smartphone.

After launching the application, click the big blue "Create a new wallet" button.
If you already have a wallet, then if you lose access when starting the application, click on the button "I already have a wallet".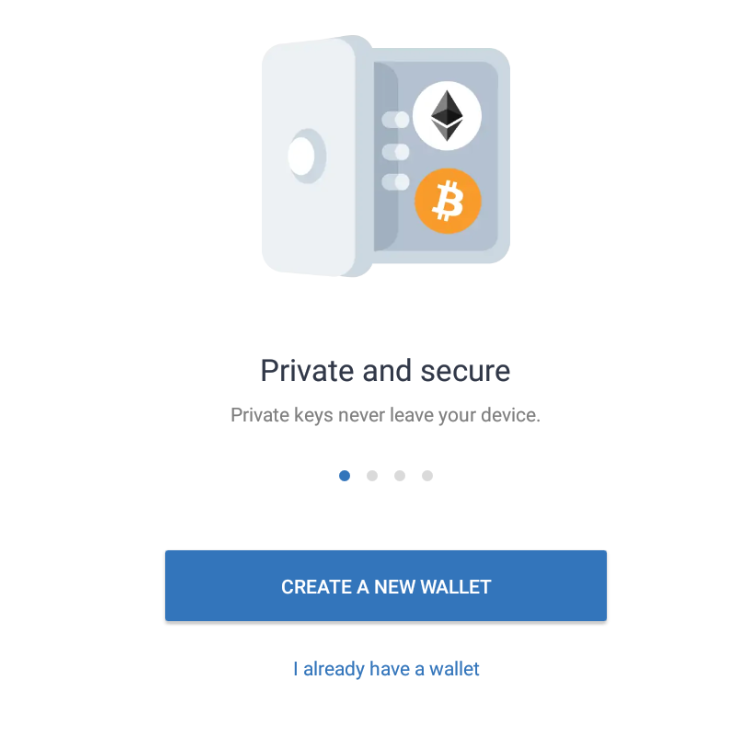 Read the license agreement and agree to its terms.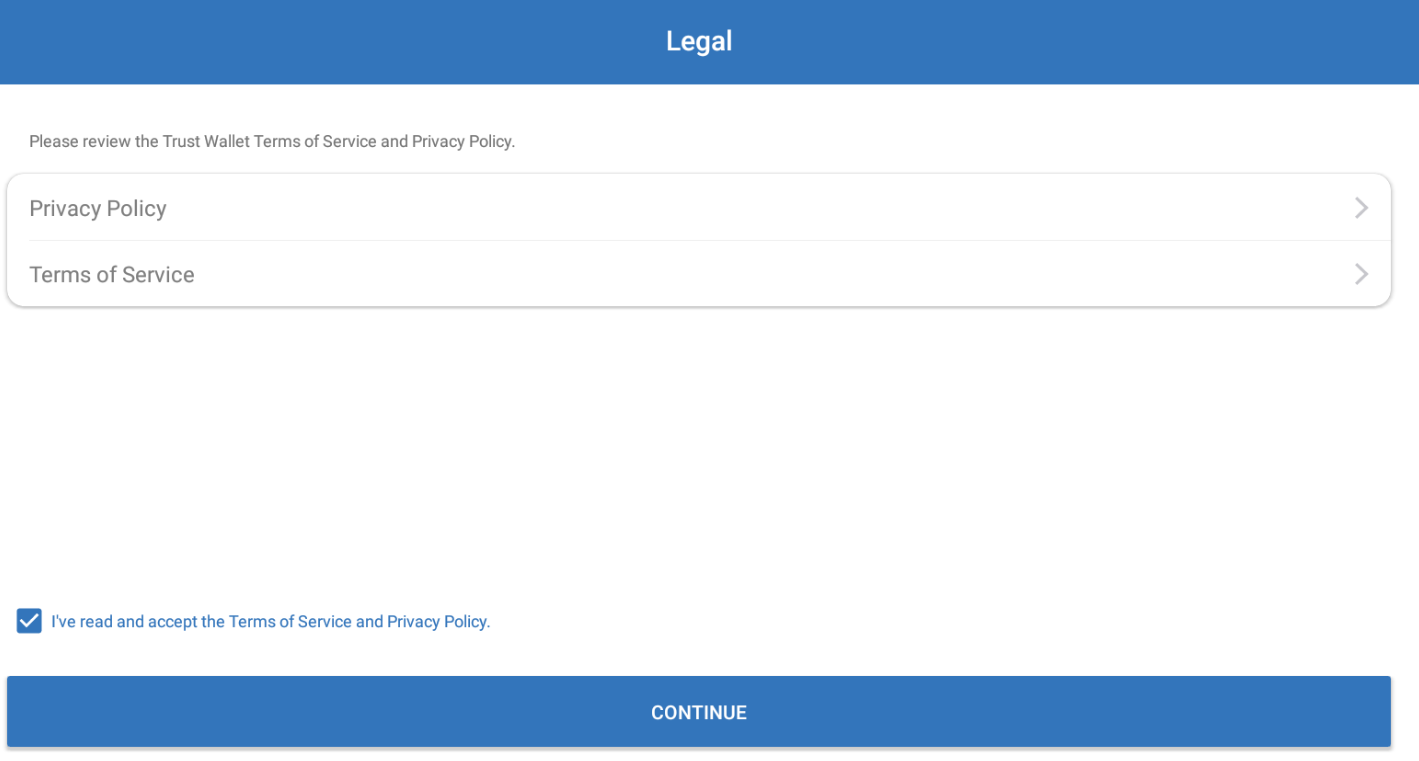 You will be warned that it is vital to save the recovery phrase.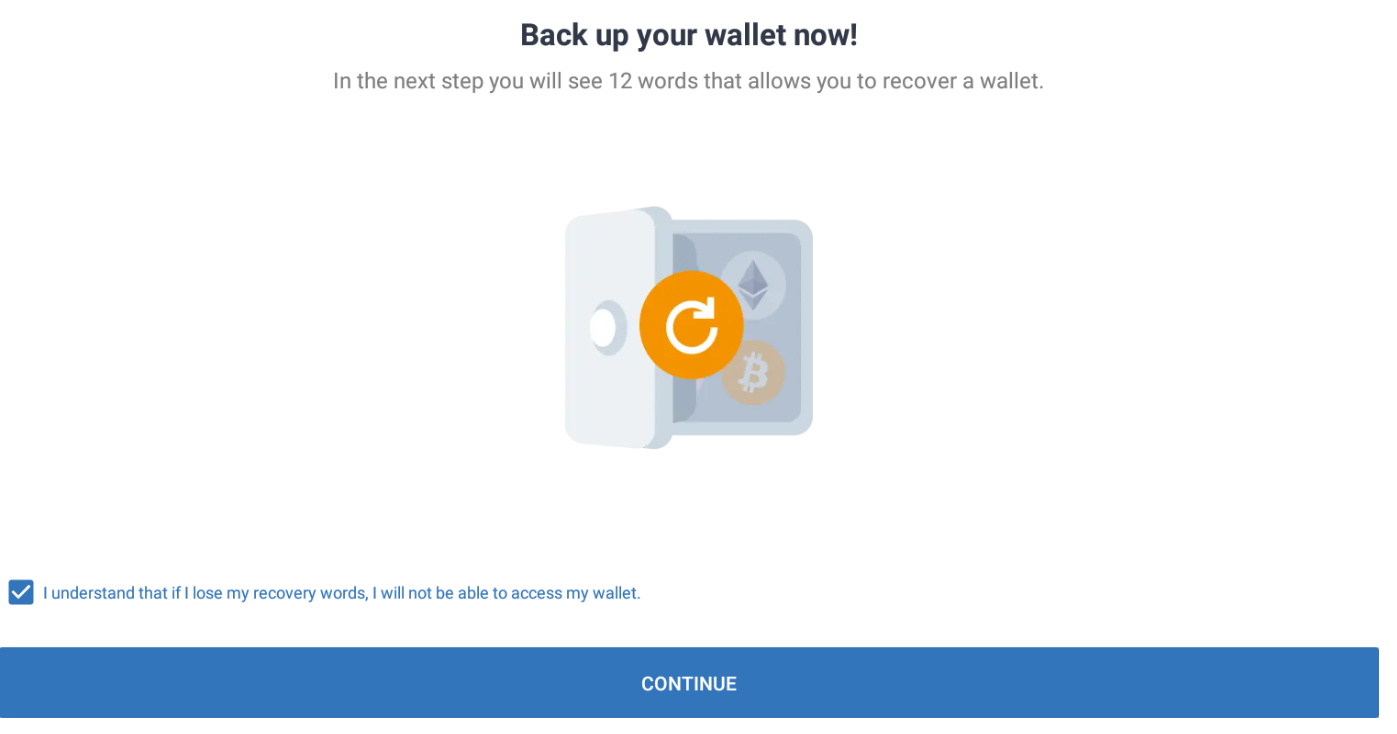 Next, you will be presented with a secret phrase consisting of 12 words. Save it in the correct order. This is how the backup works.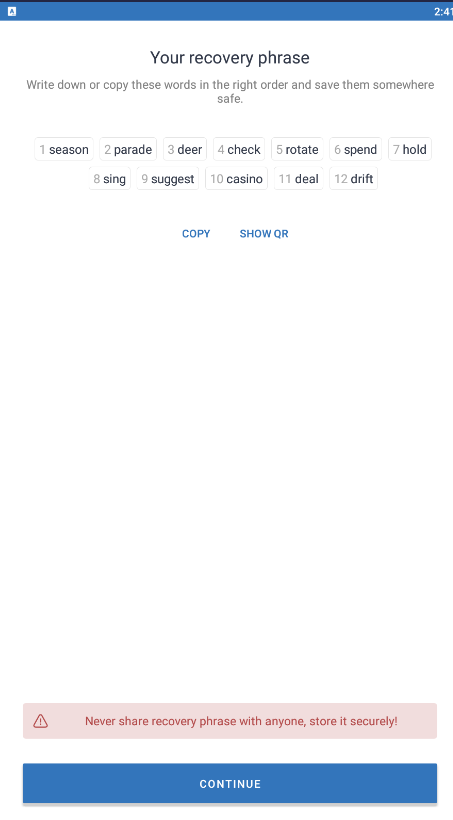 Do not share your secret phrase with third parties. Do not post to third party sources. Otherwise, the wallet can be hacked, and digital coins can be stolen. Please note that Trust Wallet employees will never ask for a passphrase.
After confirming that you understand the severity of the passphrase, you can start using a cryptocurrency wallet.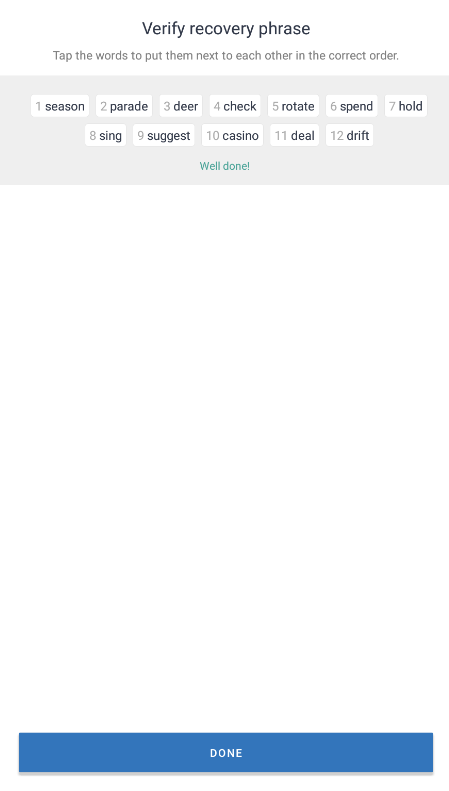 After creating the wallet, you will see a pop-up window that says "Your wallet was successfully created":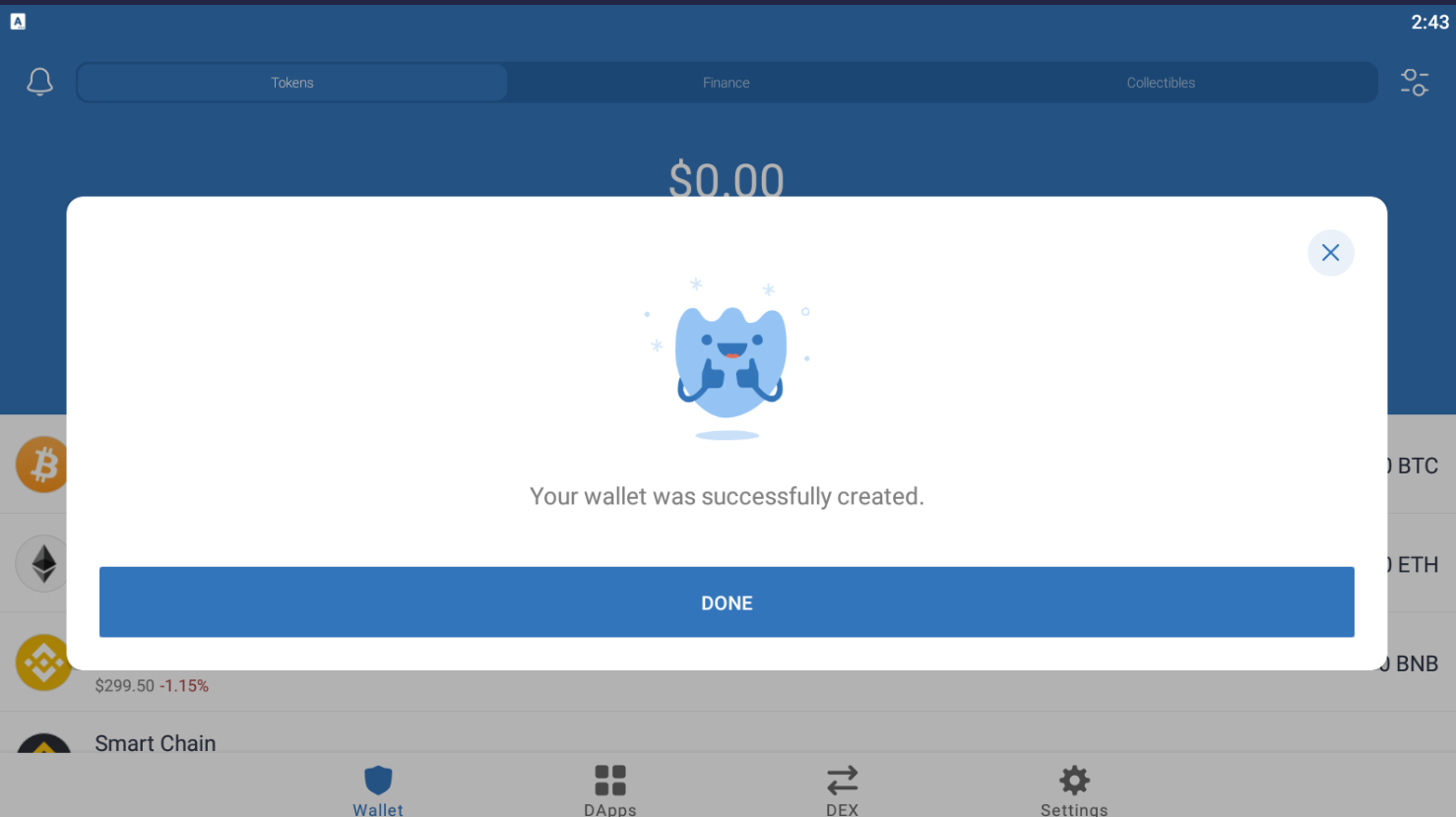 Sections will be provided at the top:
tokens,
finance and
collections.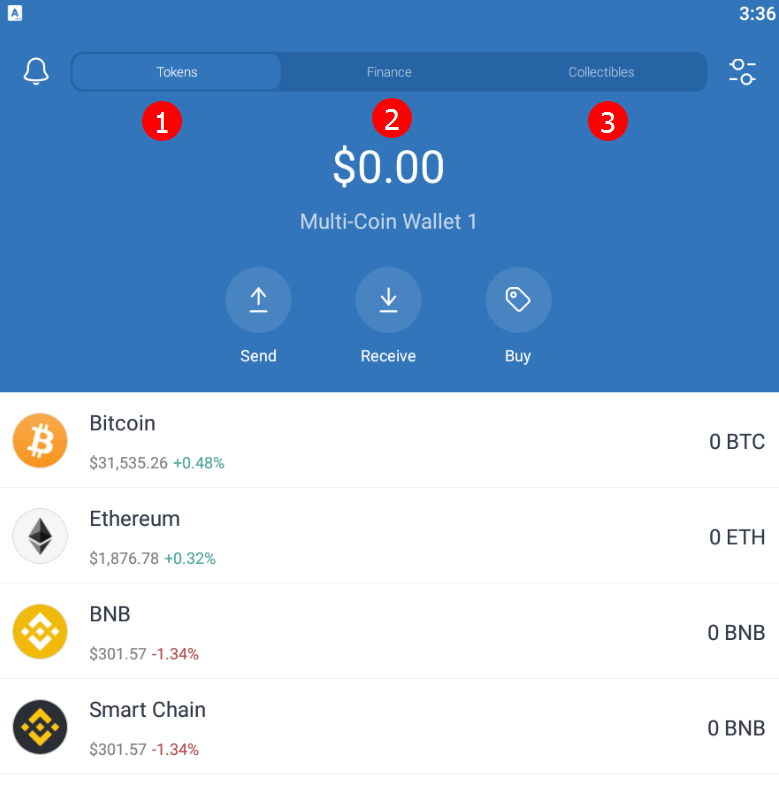 The first tab displays all the digital coins you have connected. In finance, staking of cryptocurrencies with an indication of their profitability becomes available.
Staking
For passive earnings, just choose the option you like and click on the "Staking" button. However, here you need to have a certain amount on your cryptocurrency account. More information about this is indicated in the "Finance" tab. Interest income is also indicated here. You can also see the profitability by clicking on the "More" button.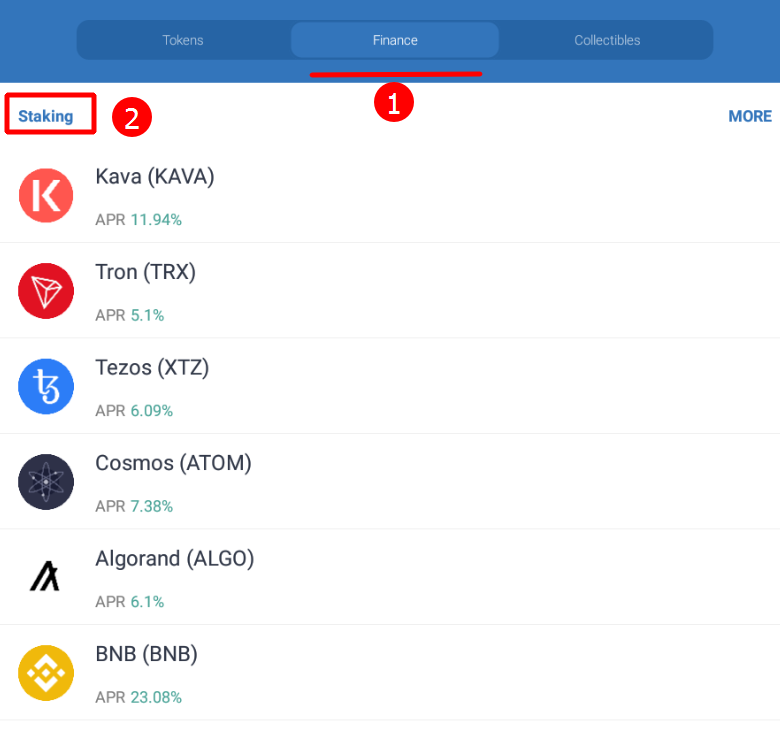 Collections display the rare digital coins you own. If you have not already purchased, you can go to the opensea.io website where you can buy and sell digital objects.
How to set up
The following settings can be found in the cryptocurrency wallet: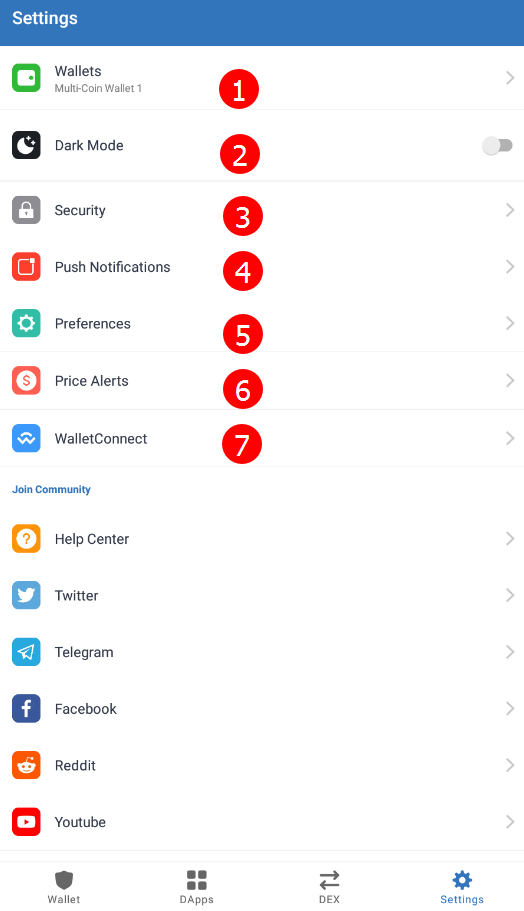 Wallets - displays a list of wallets that the user has connected to his account.
Activation of the dark design of the interface. A great option so that after sunset the smartphone does not blind your eyes.
Safety. The access code is activated here. Also, there is an automatic change of addresses for the first cryptocurrency (BTC) and network forks.
Push notifications. All messages output by the system are displayed.
General settings. Here you can change the main fiat currency, which displays the rate of digital tokens. Also, the dApp browser is turned on and off, allowing you to view decentralized applications. This is also where the cache is cleared.
Price Alerts - Receive alerts on significant price changes for your favorite cryptocurrencies.
Wallet Connect. This is a feature used to connect DApps to mobile crypto wallets. This involves end-to-end encryption. To complete the procedure, you must scan the QR code. This way you can link other crypto wallets to the application.
As you can see, the functionality is quite simple and straightforward. Even a beginner can figure it out.
How to import your wallet into trust wallet [in 20 seconds!]
Learn exactly how to import a crypto wallet Trust Wallet - in under 20 seconds
Now you can:
Store all your favourite crypto
Store & buy NFTs
Connect to decentralised applications
Buy crypto on credit card
Check charts & prices
What is twt Trust Wallet Token
TWT is a utility coin used exclusively in the application. Позволяет стимулировать пользователей криптокошелька, чтобы повысить их информированность. Он предоставляет следующие возможности:
Get a discount to buy cryptocurrency or DEX service.
Access collectible tokens.
Take part in the decision to add new digital coins and functionality.
Conduct a DApps review or promotion to support the developers. This enables the further adoption of Web0 for smartphones.
Provide affiliate and bonus rewards. At the same time, it can be converted to BNB or Ether, as well as used to pay a commission.
Improving user reputation.
Digital coins are transferred between network members or exchanged. They are used in any wallet supported by the Binance blockchain according to the BEP2 cryptocurrency standard. However, it has not yet been added to listing on exchanges.
How to Use Trust Wallet App for Beginners - Crypto Wallet
How to Buy Bitcoin with a Credit Card
It is one of the few wallets that supports cards directly. In this case, the commission is immediately included in the operation, and therefore there is no need to make additional funds. How to top up Trust Wallet? Follow these simple steps:
Open the cryptocurrency you want to top up in your wallet.
Click the Buy button. She is at the very bottom.
Enter the amount in fiat. The minimum can be replenished with 50 dollars, the maximum - up to 2000. Click "continue".
Enter the card details. Its number, expiration date, name and surname of the owner, security code are indicated here.
Check the box if you want to use the card on a permanent basis.
Enter your email address.
Enter your contact details, including phone number and date of birth.
Agree to the privacy policy and terms of use. Click "Pay Now"..
Replenishment from the card is carried out through the services:
The wallet supports VISA and MasterCard payment systems. At the end of the procedure, an operation identifier is provided. You can use it to track your transaction.
In the era of cryptocurrencies, it is important to have a wallet that is simple and functional. The Vollet Trust is just that.
Is the wallet secure?
Yes, Trust Wallet is a secure wallet for Bitcoin and many other cryptocurrencies.
Recovery phrase
For ease of use, the application encrypts the private keys of all assets to create a single master private key, which is then run through an algorithm to generate a unique 12-word phrase known as the recovery phrase or mnemonic phrase.
Upon registration, you will be assigned a wallet in which you must immediately back up your recovery phrase.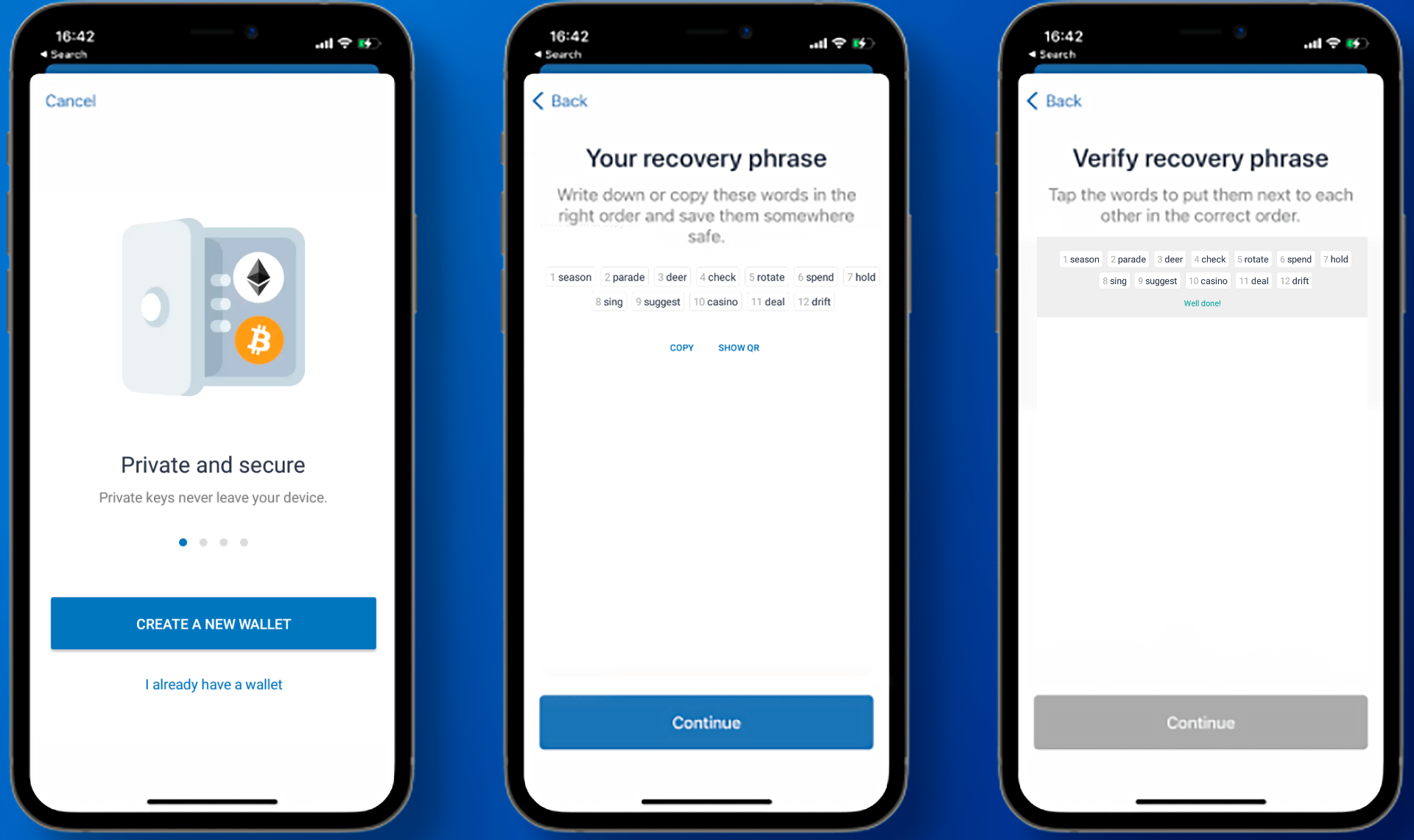 A SEED phrase is essentially all of your private keys converted into a human-readable twelve-word format. This is critical to the security of your wallet because whoever has the recovery phrase has access to all the funds in your wallet. Also, without it, you won't be able to access your funds if you lose your device.
This is why you must carefully write down each word in the correct order and keep it in several safe places.
While some people save their 12-word SEED phrase in password-protected note apps, keeping it offline is a safer option.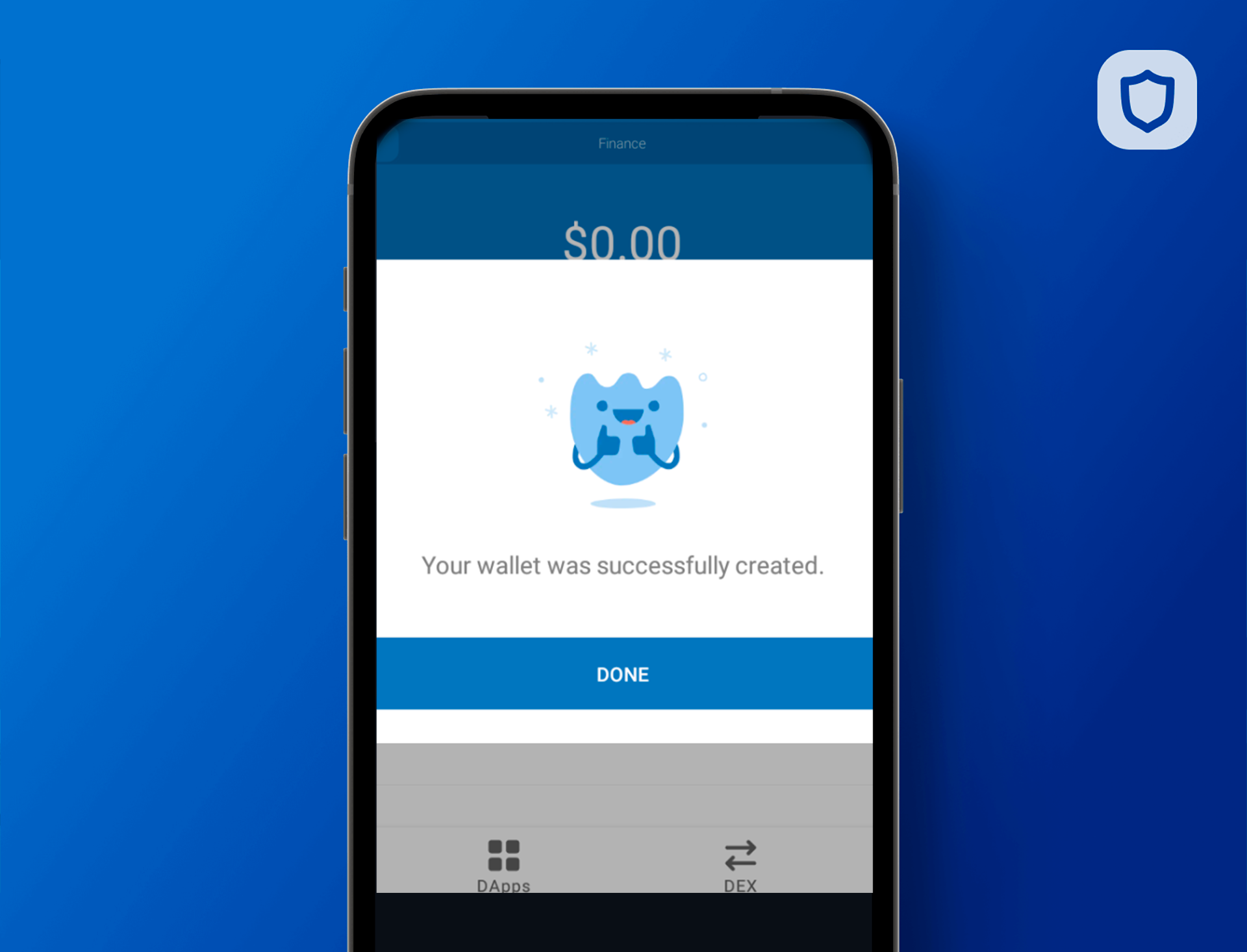 Make sure you write it clearly on a piece of paper in the correct order, double-check the words, and keep it in a safe place.
How to retrieve your "Secret Recovery Phrase" on Trust Wallet
Here's a video tutorial on how to retrieve/get your secret recovery phrase on Trust wallet to backup your assets/account safely in any case you lost your phone are access to it.
How to make a backup after creating a wallet
If you've created a wallet and aren't sure you saved your recovery phrase correctly, you can still access it in the app by following these steps:
Open 'Settings.' (settings).
Click on 'Wallet'.
Touch the "i" icon to view the recovery phrase.
Copy and store in a safe place.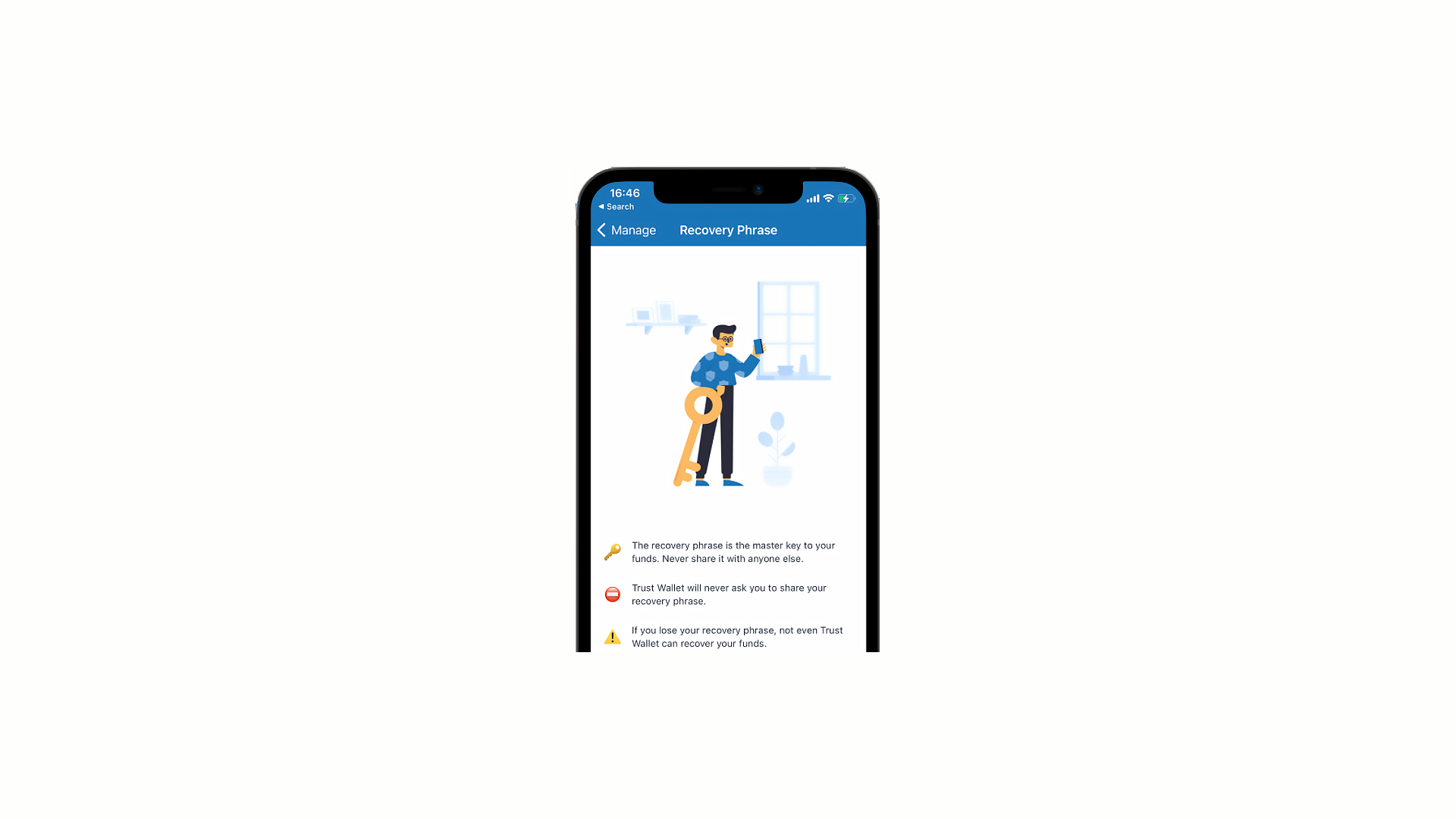 Add extra security: passcode with/without Touch ID or Face ID
The next step after backing up is to add an extra layer of security by adding a passcode. Adding a password makes it harder to access your wallet, send crypto, or change your PIN if your phone is stolen.
Here's how to do it:
Go to settings.
Click on "Security".
Turn on 'App Lock' and enter your password.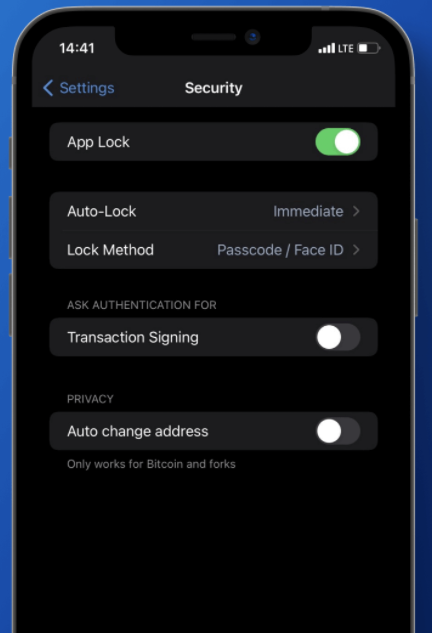 You can set the auto block time to:
immediate,
5,
10 minutes,
1 hour or
5 o'clock.
You can also enable Touch ID or Face ID to unlock your wallet, depending on your device.
Beware of phishing!
Phishing is an attempt by attackers to manipulate users into revealing confidential information in order to gain access to their funds.
Here's how it works: The scammer creates a clone of the Trust Wallet website or social media pages and asks you to complete some tasks, including giving away your recovery phrase, in order to receive a reward. Others will write to you directly, masquerading as administrators who are looking for solutions to your problems.
Look at the example below.
To avoid becoming a victim of phishing, remember the following:
No administrator on social networks - Facebook, Twitter and Telegram - will ask you to send a recovery phrase for any reason.
The first person to message you on any social media page is most likely a scammer and you should immediately report and block them.
Your recovery phrase belongs only to you. There is no reason to share it with anyone else, no matter who they are or what they say.
Limit your connection to third party sites
Connecting your wallet to a third party site (trusted or not) increases your vulnerability to phishing attacks. This is especially true for iOS users who still use Wallet Connect to link their wallets to DApps.
However, the good news is that you can enable the DApp browser in your wallet in just two steps:
Open Safari and go to trust://browser_enable
A pop-up screen will appear asking you to open a page in Trust. Click "Open" and the application will launch the browser.
How to Swap Cryptocurrencies using Trust Wallet
Trust Wallet is a secure Smart Wallet (Multi-coin wallet with integrated DApp Browser for multiple Blockchains) with support for Bitcoin BTC, Ethereum ETH, Ethereum Classic ETC, GoChain GO, POA Network, VeChain VET, Tron TRX, Wanchain WAN, Callisto CLO, Icon ICX and all ERC20, ERC223 and ERC721 Tokens.
Alternatives
Conclusion
This project is arguably the most secure mobile cryptocurrency wallet on the crypto market. However, it is still important to follow the wallet security guidelines to ensure that the funds are as secure as possible. So write down your recovery phrase and add the password to your wallet!
Supports two Ethereum networks (ERC721, ERC1155 token standards) and NFT on the Binance Smart Chain network (BEP721, BEP1155 standards)