How to stake Ethereum 2.0? How much ETH can you earn?
Is Ethereum Staking Profitable?
In this beginner's guide, you will learn all the details about Ethereum staking and which crypto exchanges and pools support it.
The process updating Ethereum Merge or Ethereum 2.0 describes the transition of ETH to a new algorithm. New blockchain blocks can no longer be mined. They are created under a special staking contract.
Simply put, staking is a bank deposit with interest. The user transfers funds to the account, stores them and receives passive income for this. The more funds in the account, the higher the earnings. However, the more participants, the less income.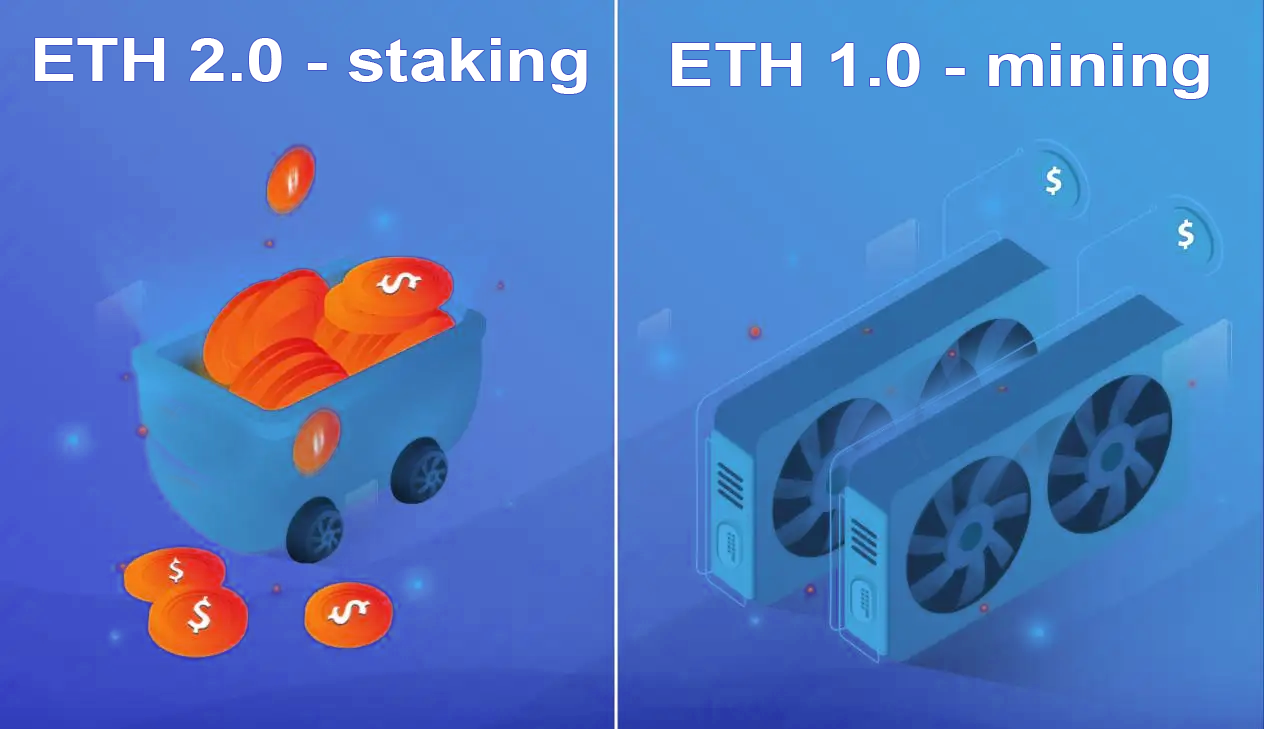 Let's briefly summarize the main definitions in order to become an expert in this and choose the least risky way to stake:
Staking1

this is the placement of crypto-tokens used in the process of mining new coins. As a user, you keep your crypto tokens but assign them to a staking node that takes part in verifying transactions on the network. You become a validator.

Validators2

these are the nodes of the blockchain that support its operation. They are responsible for confirming and verifying transactions, registering them, and adding new blocks. Simply put, validators are cryptocurrency holders with special software installed on a computer (node).

Nodes (nodes)3

These are the computers running the program (e.g. Ethereum wallet). Nodes are connected to other computers (with the same software installed) to create a cryptocurrency network.
Good and bad ways, risks

There are 4 ways to start staking:
Solo staking (on your PC).

Safe

because you are in control of your funds. But

it's not easy

to set up your own node. You do not share rewards with other services.
Staking as a service.

Relatively safe

. You need to trust the third-party node operator and pay a percentage for the service. The average difficulty of setting up is because the node is already set up by the service operator.
Staking in the pool.

Relatively safe

. You need to trust the owners of a third-party pool and give a percentage to the pool operator. However, you can place less than 32 coins.
Staking on exchanges.

Not safe

. Exchanges are often hacked. Also, exchanges can freeze funds. You can place less than 32 coins. Extremely easy to set up.
When we have dealt with the main theses, we can move on to practice. But first, let's look at profitability.
Yield
Profitability can be found on the official website of Ethereum4. The CURRENT APR means annual income as a percentage.

It is profitable to engage in staking or not is determined by the number of coins participating in the validation - the TOTAL ETH STAKED indicator. In simple terms, income depends on how many stakers deposit 32 ETH. This determines the possible commission that the validator receives.
Calculation example
Let's calculate how much profit staking brings in ETH 2.0.
If only 1 million ETH is staked, then you will be rewarded with approximately 5.76 ETH per year (corresponding to a yield of 18.1%). But if 30 million ETH participate in the validation, then the income will be about 1 ETH (3.3%) per year.
In total, if about one million ETH users confirm the validation, the annual income will be about 18.1%, and with 30 million ETH - only 3.3%.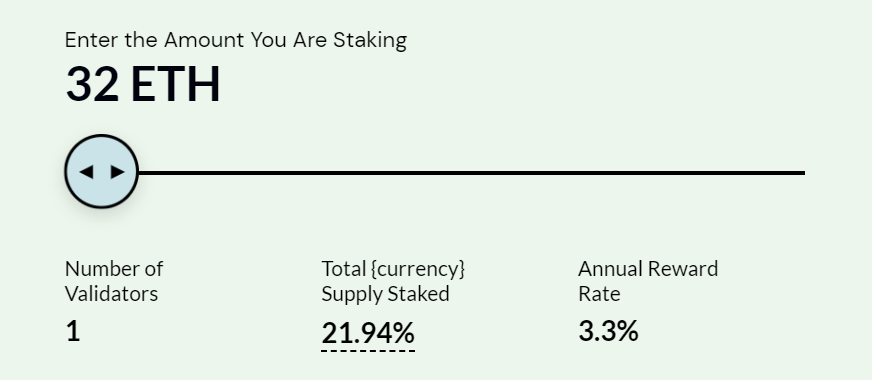 Since actual returns depend on the factors mentioned above, they will also vary greatly in the coming months. However, profits of 3 to 7 percent of ETH can be expected.
It is also important to know that it is not yet possible to withdraw your deposits or profits. This will only be possible after the full implementation of Ethereum 2.0, which is not expected before the end of 2022.
Calculators
There are various calculators on the Internet that show the possible profitability.
List of online calculators:
stakingrewards.com
beaconscan.com
ethereumprice.org
ethscan.org
walletburst.com
Calculate how much you can earn. The results vary depending on the selected amount, term and type of bets.

Hardware requirements
A basic PC with low energy costs is all you need to cut costs and maximize revenue. No need to buy expensive hardware.
According to Prysmatic Labs5, the minimum requirements are:
Memory: 4GB RAM.
Storage: 20 GB free space on SSD.
OS: Linux, Mac OS X 10.14+ or Windows. 64 bit.
Processor: Intel Core i5-760, AMD FX-8100 or better.
Stable internet connection. Your computer must be online 24/76.
Ethereum validator requires 32 Ethereum. However, there are other ways that require less ETH to participate in the staking process.
Above we wrote about 4 possible ways of staking. Let's consider them all. Let's start with the simplest - staking on the exchange.
How to stake Ethereum 2.0?
Other staking methods include services such as DeFi.
DeFi and services
DeFi are traditional financial instruments built on the blockchain, in particular on Ethereum7.
If you already have your own wallet and store some of your coins on MetaMask, for example, then you have the option of staking Ethereum through DeFi providers.
The most famous example is Lido Finance.
The DeFi provider allows you to stake Ethereum as easily as possible without neglecting the idea of ​​decentralization.
Where to stake ETH? Ethereum Crypto Passive Income (Coinbase, Kucoin, Binance)
How to get crypto dividends by just owning any amount of Ethereum. In this video I show you how to stake your ethereum 2.0 to make crypto passive income.
Pools
Pooling involves staking through centralized online brokers.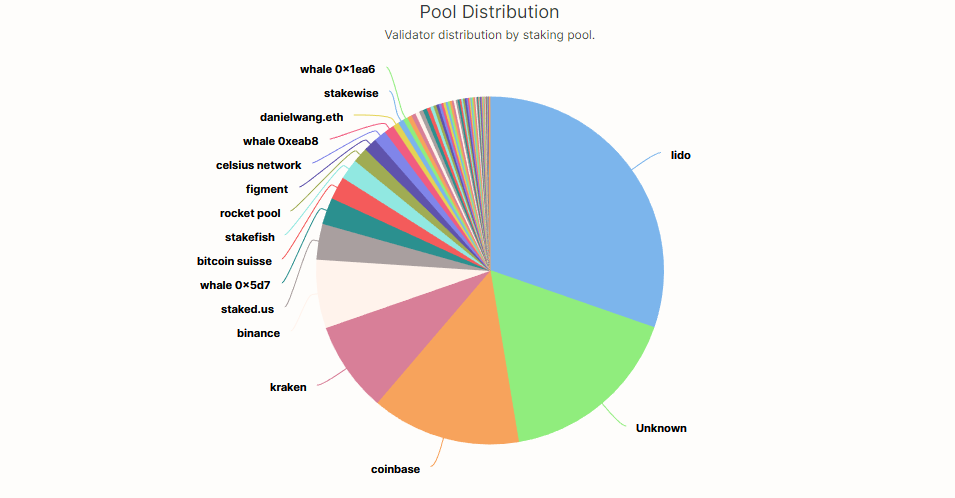 The largest pools include the following list:
Lido
Coinbase
Kraken
Binance
Staked.us
Whale 0x5d7
Bitcoin suisse
Stakefish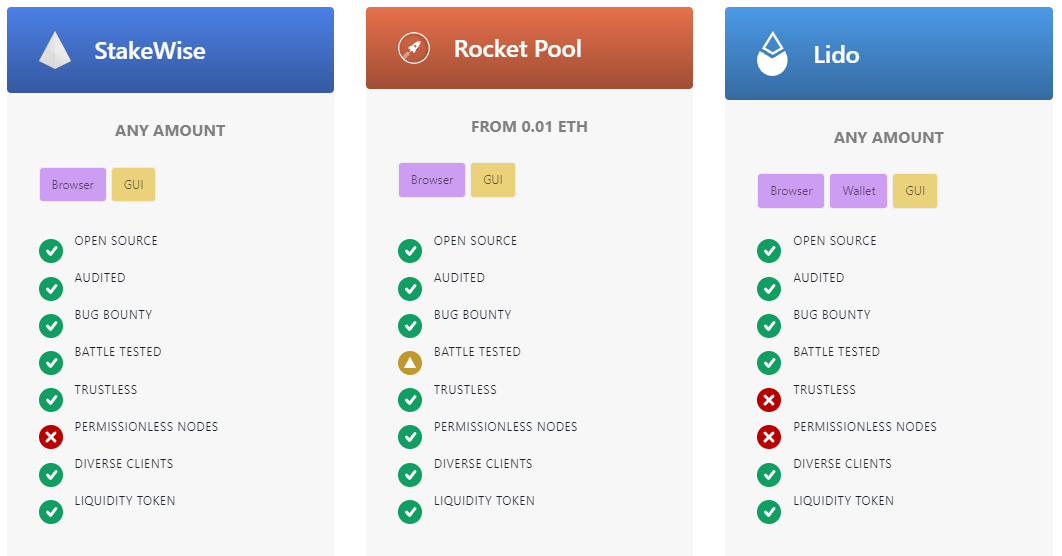 However, to work in some pools, you will need to deposit 32 ETH. Others work with a deposit of 0.01 ETH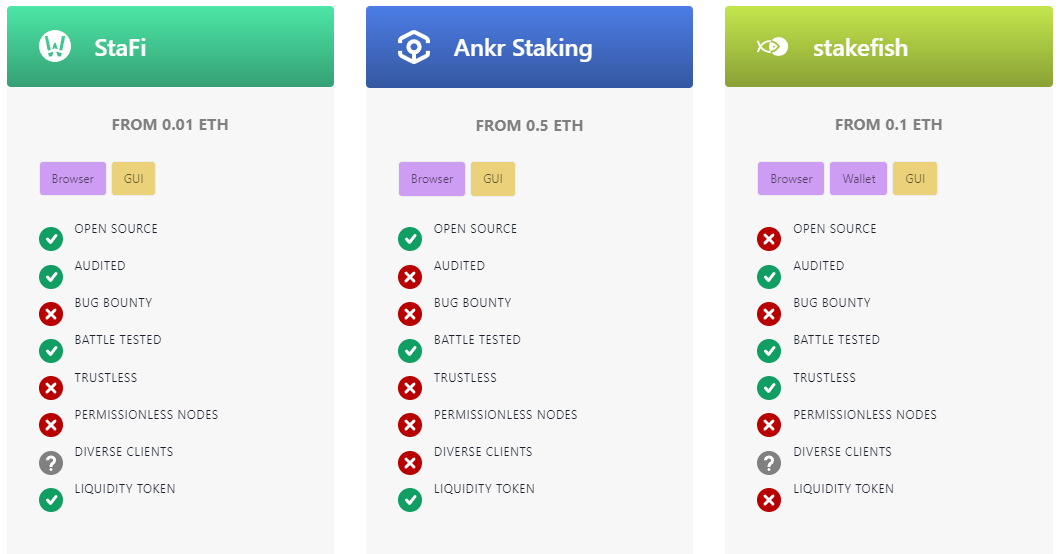 For a complete list of pools, visit beaconcha.in.
Lido Staking Tutorial (ETH, Solana, Matic) - For Beginners
In this video, we cover what Lido Finance is, how to stake ETH, SOL, MATIC etc.
Launching a node on its own
If you have 32 ETH, you can also participate in block validation yourself. However, for this you need a special "non-custodial wallet".
Such a system is too complicated for beginners, and investments become too risky. Also, unless you hold a significant amount of ETH, the chances of finding a block to validate are extremely low. Given all these nuances, in the following articles, we will look at running a node on its own.
So don't forget to bookmark miningsoft.org!
Risks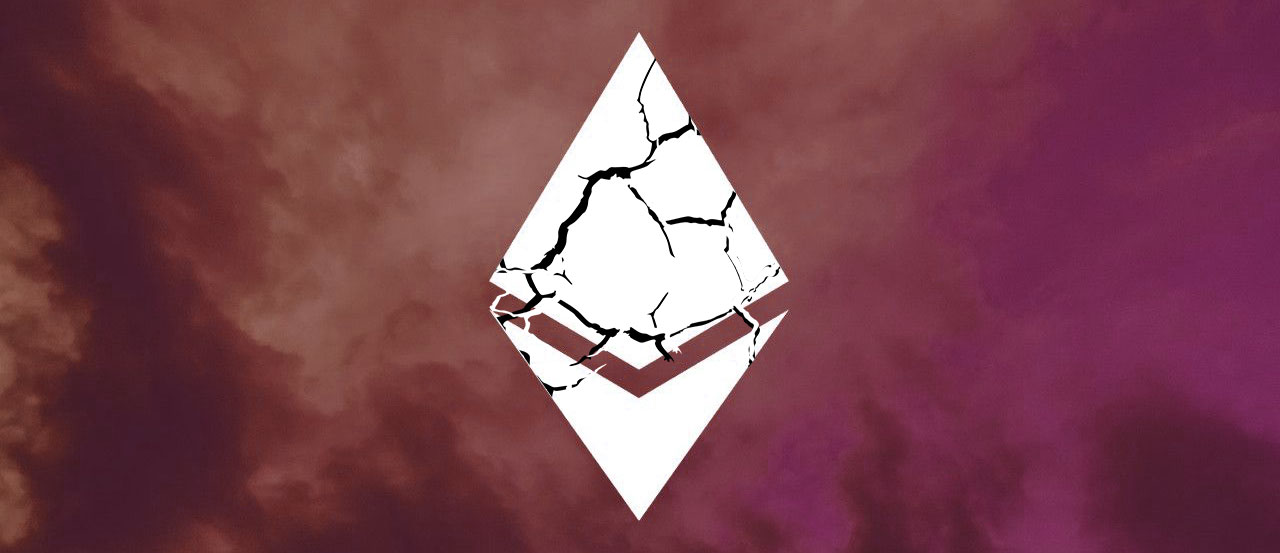 As mentioned earlier, the validator requires unrestricted network availability to work. On exchanges and some services, ETH must be stored in a hot wallet, as proof of ownership must be provided over the Internet at any time.
This is considered a potential risk for attacks. The validator undertakes to store coins from several months to several years. If the price rises or falls, validators will not be able to access their deposit and sell ETH.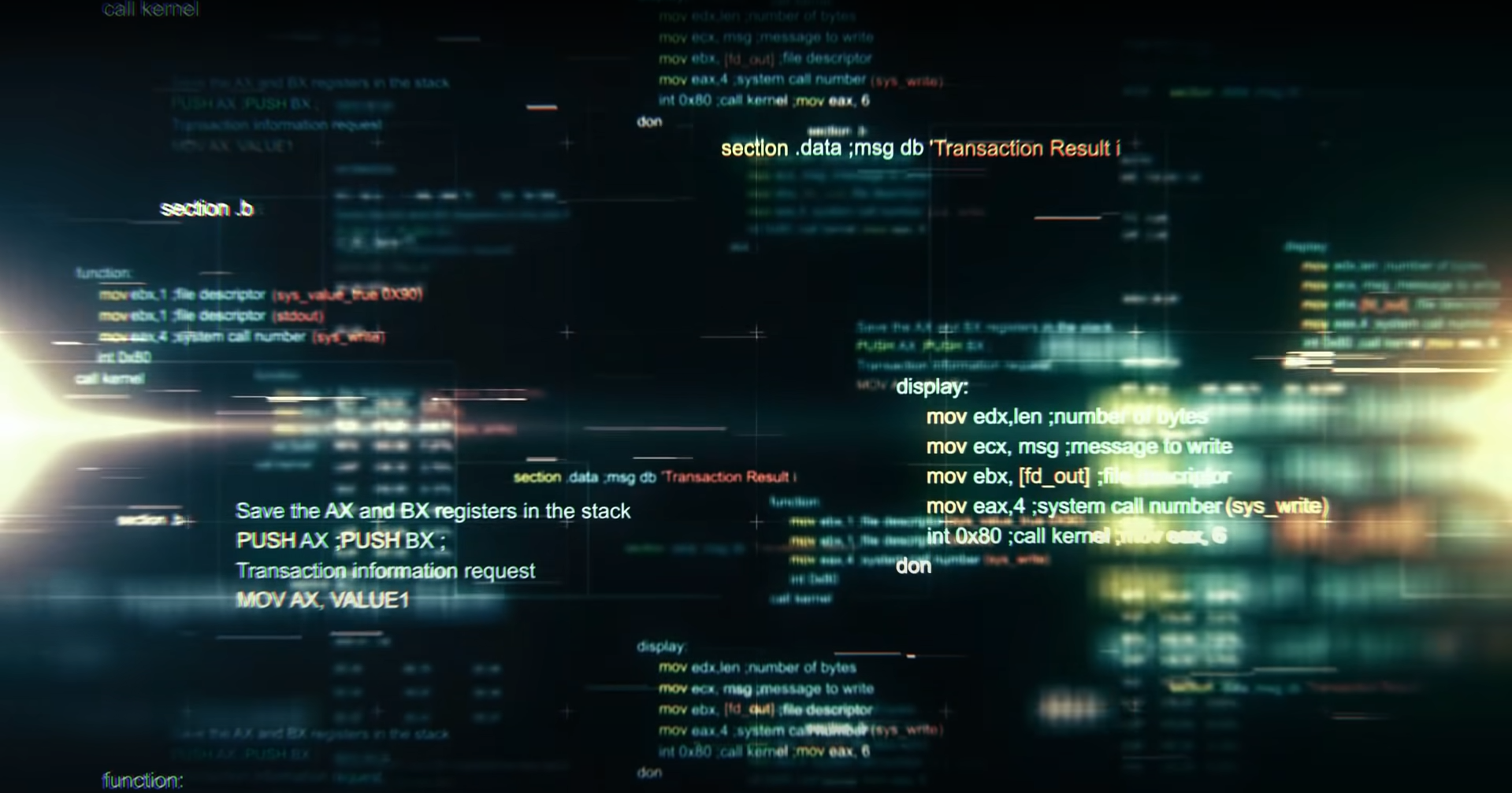 In the event of a sharp drop in price, the commission received will no longer be able to compensate for any losses, so staking turns into a loss-making business.
In addition to the potential loss due to a temporary price drop, there is also the risk of losing a depositdue to breaking the rules.
Validators who do not follow the rules can be fined8. Staking Ethereum 2.0 has 2 potential penalties:
Reward reduction.
Partial loss of the deposit.
The reduction of remuneration occurs even with minor violations. For example, if it is impossible to connect to the validator over the network. Partial loss of the deposit usually threatens only in case of serious violations.
These risks include the constant generation of "bad" blocks or careless duplication of transactions.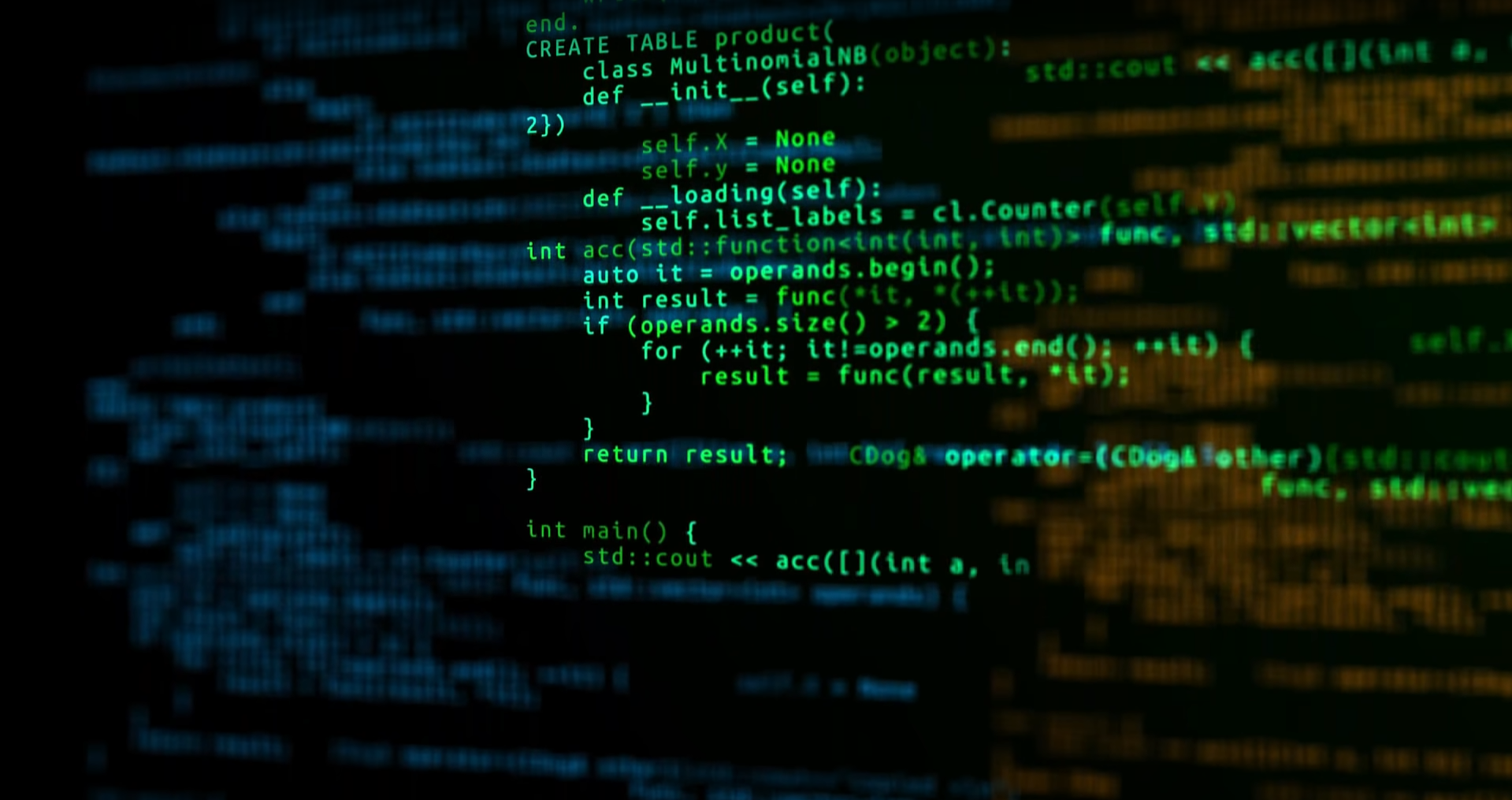 Moreover, there is another danger, mainly at the initial stage of Ethereum 2.0. There is no absolute certainty that new protocols will be secure, error-free and hacker-proof smart contracts.
To minimize this risk, the developers of the Ethereum Foundation reviewed their code several times with experts. Important components also went through an extensive testing phase.
Pros and cons
It's time to decide if staking is good or bad?
Benefits:
Remuneration - from 3% to 15% per annum
Ideal for long-term HODL strategies9
You can start with a small deposit
Risks:
Not an easy process, especially launching your own node
Network fines
The need to trust third parties if staking goes through exchanges
Frequently asked Questions
Where does the income come from?
Validators collect fees from those who make transactions on the blockchain.
How much can I earn?
As with any investment, staking offers the prospect of profit. However, it always depends on the crypto broker you end up choosing.
How many coins do you need?
The volume depends on the service. Depending on the online broker, you can stake with a minimum of 0.1 ETH.
Can I withdraw staked ETH?
Depending on the provider, you can withdraw ETH from staking, but then you will have to expect the rewards to be lost.
Can I lose staked ETH?
Yes you can. Due to network errors, hacks and exchange scams.
How long will ETH be staked?
You will not be able to withdraw and exchange the rewards you earn through staking until the Ethereum 2.0 upgrade is completed. It should take place at the end of 2022 and end at the beginning of 2023.
Should I stake?
Investing in staking may be suitable for those investors who are looking for a reasonable investment strategy for the medium to long term. These investors can benefit from good returns comparable to dividends.
For this type of investment, as for most others, a positive change in the price of the asset is a prerequisite for making a profit. However, you also need to take the risks that a token price drop can cause.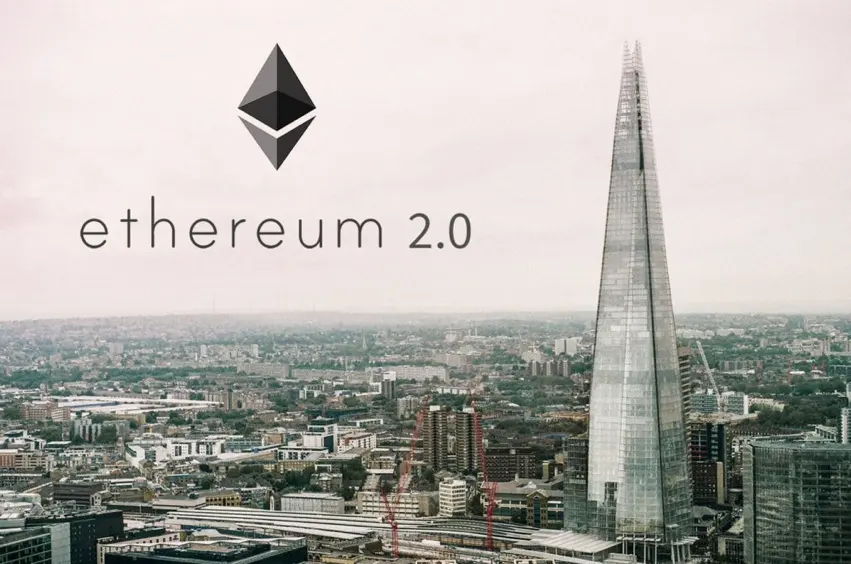 Opinion of the coindesk platform:
Standing up nodes in multiples of 32 ETH and running them with barely any downtime while the assets are locked up for what could be years won't be for everyone – and it shouldn't be.10
On the other hand, traders whothose more focused on day trading or swing trading will not find it particularly advantageous to hold coins for an unpredictable period of time. Your profit is mainly determined by short-term price fluctuations.
However, staking is a reflection of the true evolution in the blockchain network. Don't you want to be a part of it and benefit at the same time?
The TRUTH About Ethereum Staking Rewards...EARN Passive Income?
A lot of people are saying ETH is due for a dump after the move to POS, but not only do I believe this to be untrue, I believe there is solid passive income to be made. In this video I give you the truth on Ethereum staking nodes, how they work, and what they mean for Ethereum and the crypto landscape as a whole.
Thus, staking is always useful if you want to invest small amounts in a promising investment.