APMinerTool: Download and How to Use
Asic AP Miner Tool: Download from the official site for Antminer.
In this tutorial, you will learn how to set up and use the latest APMinerTool v1.0.11 and newer.
Download for Windows / Linux
What is APMinerTool?
APMinerTool - is a mining farm monitoring software that can scan multiple LAN IP segments at the same time and can monitor ASIC operation status in batch. The software supports alert settings, IP ranges, firmware, etc.
Features
Batch monitoring of the state of the ASIC.
Mass configuration of devices (in batches).
Firmware update (in batches).
Batch restart.
Supports simultaneous scanning of multiple IP segment miners on the local network.
Firmware
You can find the original ASIC firmware on the Bitmain website.
Antminer S9 hash board repair and fault diagnosis video tutorial
Video: How to Use APMinerTool to Manage Bitcoin Miners.
Alternatives
Are there alternatives? Yes, for example:
Troubleshooting
Does not work?
Follow the five-step ASIC troubleshooting guide:
Check your network or internet connection.
Check or reset your router or switch.
Check miner's network configuration and IP conflicts.
Reboot the miner.
Repair control board or reset to factory settings.
Does the software not see the ASIC?
In such cases, resetting the settings on the miner and in the router helps.
How do I restore factory settings? If you need to restore factory settings for a specific device, you can click the "Reset" button, a pop-up window will appear with a hint, click "Ok".

Versions
Conclusions
This software does an excellent job with its functions. There is a version for mobile devices - IOS and android.

To use, you need to scan the QR code or use the direct download link.
Click the "+" sign in the middle or the "+" sign in the upper right corner to enter the IP segment that the miner has access to.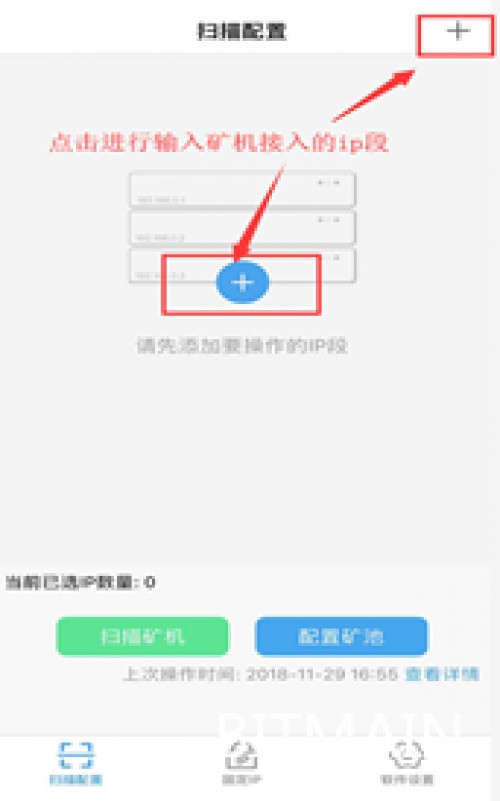 If you are mining on video cards, it is recommended to use PhoenixMiner