BTC Tools: Download, ip scanner, Overclocking
Asic BTC Tools: Download from the official site for Antminer, innosilicon.
In this tutorial, you will learn how to set up and use the latest BTC Tools v1.3.3 and newer.
Download for Windows / Linux
Download from bitmain.com Download (Linux)
What are BTC Tools?
BTC Tools - is a tool for scanning, configuring, rebooting and updating most Antminer, WhatsMiner, Innosilicon or Avalon ASICs. The utility includes ip scanner, monitoring, batch control overclocking miners. Using this software you can easily find abnormal miners with low hash rate or high temperature.
The application allows for simple configuration, reboot, upgrade, performance tuning and/or power reduction. The tool is useful when working with multiple miners. For example, if you want to reboot all or a small part of the devices, you can do it using BTC Tools by selecting each of them and clicking the "Restart" button.
Does the software not see the ASIC?
In such cases, resetting the settings on the miner and scanning helps 192.168.0.1 - 192.168.1.255. Well, your own subnet must also be within these limits. DHCP can be active on the router and it will issue a "ranodom" ip to the miner itself.
Also execute on the command line arp -a and you will see all the addresses on the local network. If you know the MAC address of the ASIC, then it's great, if you don't know, then go through all the addresses in turn, those at the top of the list have MAC.
Video: How to change Antminer pool and worker if error using BTC Tools
Firmware
You can find the original ASIC firmware on the Bitmain website.
Video: Bulk flashing ASICs in BTC Tools
Select your firmware and follow the instructions.

Video: How to record which miners to be rebooted
Video: How to setup Antminer S9, R4 GUI- Set mining pools, ECT
Settings window: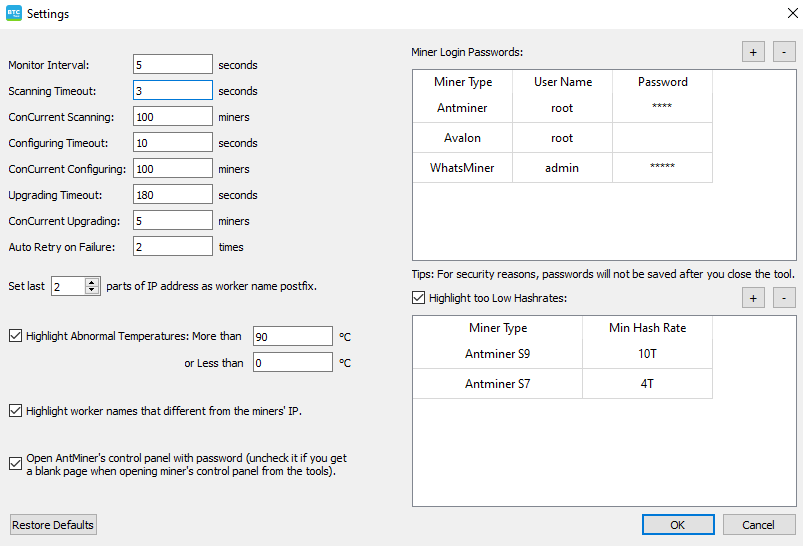 Video: Mass customization of stratums and workers in BTC tools
Alternatives
Are there alternatives? Yes, for example:
Troubleshooting
Does not work?
Follow the five-step ASIC troubleshooting guide:
Check your network or internet connection.
Check or reset your router or switch.
Check miner's network configuration and IP conflicts.
Reboot the miner.
Repair control board or reset to factory settings.
If the program does not work, then try using the alternative solutions described above in the article.
The program supports export of settings. You can try to configure the program on 1 PC, and then export the settings.

Versions
Conclusions
The software supports most Antminer miners and some Avalon miners, including AntminerS17, T17, S9, S7, T9, etc., as well as the AvalonA8, A7, A6 series, etc. with both Antminers and Avalon Miners.)
If you are mining on video cards, then it is recommended to use PhoenixMiner