BzMiner 9.1.4 - Download and configure (LHR) for mining
BzMiner miner: how to set up and run.
This guide describes how to start and how to use the latest version of BzMiner v9.1.4 and higher.
Download for Windows/Linux
Download from site
Download from GitHub
What is BzMiner?
BzMiner – is a command line miner. It is launched using a .bat file or configuration file config.txt. Supports two algorithms: Ethash for Ethereum mining, etchash for Ethereum Classic mining and Kawpow for Ravencoin. The program integrates into HiveOS and MMPOS.
Auto-intensity of this software dynamically adjusts graphics card workloads, reducing latency while maintaining a high hash rate.
Commission: Devfee of this miner is only 0.5%.
Requirements
At least one Nvidia GPU and Nvidia drivers
Or at least one AMD GPU and AMD drivers.
Windows or Linux.
Configuring for Ethermine
| | |
| --- | --- |
| Pool address | eu1.ethermine.org |
| PORT: | 4444 |
| Wallet address: | 0xada842613541e55e2500478892a334cde74ff653 |
0xada842613541e55e2500478892a334cde74ff653 - specify your wallet.
eu1.ethermine.org - specify the address of the pool.
4444 - specify the port of the pool.
Example:
bzminer -a ethash -w 0xada842613541e55e2500478892a334cde74ff653 -p stratum+tcp://us1.ethermine.org:4444
pause
Setting up a batch file for Nicehash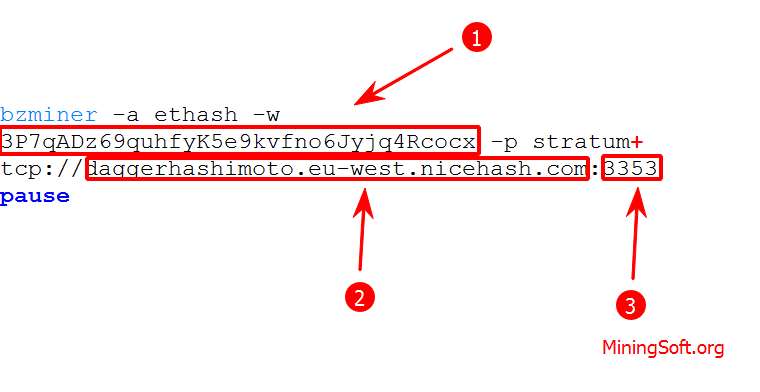 3P7qADz69quhfyK5e9kvfno6Jyjq4Rcocx - indicate the crypto wallet from the NiceHash account.
daggerhashimoto.eu.nicehash.com - indicate the address of the mining pool.
3353 - specify the port of the pool.
Example:
bzminer -a ethash -w 3P7qADz69quhfyK5e9kvfno6Jyjq4Rcocx -p stratum+tcp://daggerhashimoto.eu-west.nicehash.com:3353
pause
Source: bytwork.com - BzMiner setup.
Algorithms and hashrate
| Algorithm / GPU | 2080 Ti | 2070 | 2060 | 2080 | 1080 Ti | P102 | 1070 | P104 | 1060 | RX4xx/5xx | VEGA56 |
| --- | --- | --- | --- | --- | --- | --- | --- | --- | --- | --- | --- |
| Ethereum(Ethash) (MH/s) | 51.8 | 37.8 | 28.6 | 38.26 | 48.5 | 46.96 | 29.8 | 38.1 | 24.0 | 30 | 47 |
| Ethereum Classic (Etchash) (MH/s) | 51.8 | 37.8 | 28.6 | 38.26 | 48.5 | 46.96 | 29.8 | 38.1 | 24.0 | 30 | 47 |
| Ravencoin (Kawpow) (MH/s) | 31.5 | 21.0 | 18.0 | 26.5 | 48.0 | 14.5 | 14.5 | 38.1 | 9.0 | 10 | 22 |
Commands and options
List of required commands:
-a TEXT Choose a mining algorithm. For example: "Ethash".
-w TEXT Choose a mining algorithm. For example: "Ethash".
-p TEXT .. An array of pool addresses. For example: stratum+tcp://us1.ethermine.org:4444 stratum+tcp://us2.ethermine.org:4444.
Options:
-h,--help Print help message and exit
-a TEXT Default Mining algorithm. eg. 'ethash'
-r TEXT Default Rig (worker/username) name. eg. 'Rig'
--pool_password TEXT Default Pool password
--nvidia INT Only mine with Nvidia devices (0 = false, 1 = true)
--amd INT Only mine with AMD devices (0 = false, 1 = true)
-o TEXT If provided, output will be logged to this file
-w TEXT Wallet Address
-p TEXT ... Array of Pool Addresses. eg. stratum+tcp://us1.ethermine.org:4444 stratum+tcp://us2.ethermine.org:4444
-v INT Set log verbosity. 0 = Error, 1 = warn, 2 = info 3 = debug, 4 = network
-c TEXT Config file to load settings from. Default is config.txt
-i INT Set mining intensity (1 - 32). Higher means more gpu spends more time hashing. Default is 8.
-u INT Update frequency in milliseconds. Default is 10000.
-g INT Ramp up miner rather than start at full speed.
-b INT Cooldown period. 0 = disabled. Higher value means longer time between cooldown periods. default is 0
--nc INT Do not save to the config file (but still read from it).
--cpu_validate INT Validate solutions on cpu before sending to pool.
--test INT Test mine. Useful for setting up overclocks.
--http_enabled INT Enable or disable HTTP API. 0 = disabled, 1 = enabled Default is enabled.
--http_address TEXT Set IP address for HTTP API to listen on. Default is 0.0.0.0.
--http_port INT Set which port the HTTP API listens on. default is 4014.
--http_password TEXT Set password for HTTP API. If not set, HTTP API will not be enabled. default is empty.
--force_opencl INT Force all devices to use the OpenCL implementation (if possible).
--reset_oc_dag_gen INT Reset overclocks before dag generation. Clocks will be set back after dag is generated. 1 = enabled, 0 = disabled
--devices Only log devices. Does not start miner
Alternatives
Are there alternatives to this program? Yes, for example:
Conclusion
Thanks for reading to the end. Bookmark miningsoft.org in your browser. Happy mining.
Versions
Optimized CPU usage for Alephium.
Fixed network stability issues.
Higher AMD Alephium Hashrate.
Fixed Alephium algo bug causing some rejected shares.
Displaying BzMiner version in corner of output table.
Added seconds to date/time output.
Added optional startup script (if specified, BzMiner will call the script start_script in config.txt when it starts up).
Added ability to change pool reconnect delay (delay_before_connection_retry in config.txt).
Support extra nonce from pool (Thanks WoolyPooly).
Fixed unsupported message from pool considered as rejected.
By default does not clear log_file.
Added new option to config, clear_log_file.
added mining.authorize request to stratum.
fixed difficulty != 1 bug causing high hashrate and invalid shares.
Thanks: WoolyPooly, Dmitrius, VVV, HGurkann).
Alephium stability issues fixed.
Slight improvement to Alephium hashrate.
Found shares submitted faster (less stales).
Fixed sort order of GPUs.
New algo: Olhash (Overline, 1% dev fee).
Fixed hung GPU detection and response bugs.
CLI display updates.
New Algorithm!

Kawpow (Ravencoin) mining for both AMD and Nvidia cards

New (experimental) LHR Strategy:

Dual coin mining (ethash + kawpow)

Multi coin mining is now supported:

Devices can now mine as many coins as they have room in their memory for the DAGs

New config options:

"lock_config" : prevents BzMiner from writing to the config file
"log_solutions" : whether to log each solution found to the output
"auto_detect_lhr" : whether BzMiner should attempt to detect whether a card is LHR or not
"no_color" : if true, output will not have color. Some terminals show the color characters and can mess up the display
"dag_dev_ref" : Instead of generating the DAG, copy the DAG from another device. Nvidia only currently. useful for high oc's
"calc_dag_crc": whether the CRC should be calculated for the DAG or not. has an impact on DAG generation time

Other updates:

Some stability fixes (and entirely new pool/device architecture)
API's updated to support new architecture
Removed Nvidia driver dependency
shortened pool status message
added ability to copy DAG from another device instead of generating it

Bugs:

fixed miner not reporting hashrate to pool
realtime device clock speed reporting
fixed amd dag generation with many devices
rejected shares showing up as invalids
LHR detection (there is currently no LHR bypass function, only detection).