More Power Tool: Download & How to Use (Guide for AMD)
Using MorePowerTool: power limit, undervolt, curve and more.
In this tutorial, you will learn how to set up and use the latest MorePowerTool v1.3.18 and newer.
Download for Windows / Linux
Download from igor´sLAB Download from igor´sLAB 2
What is MorePowerTool?
MorePowerTool - is a utility designed to help you squeeze out as much performance as possible while overclocking your graphics card. MorePowerTool is unofficial overclocking software not authorized by AMD. This means that you use it at your own risk.
Supported GPUs:
Currently, MPT works with all released Navi maps, with the SPPT (SoftPowerPlayTables) in the registry extremely slowing down or artificially restricting the drivers. The current version of RBE (Red BIOS Editor) allows writing all MPT modifications directly to the BIOS of the RX 5700, 5700 XT (X) and RX 5600 XT and saving this BIOS as a flashable file. However, at present, only the only adapted version of the ATI Flash Tool allows flashing the BIOS created in this way in the RX 5700 and RX 5700 XT (X).
How to Use MorePowerTool?
Mining guide
You can find the original AMD firmware on the TechPowerUp website.
To become an expert with this utility, watch a selection of video tutorials:
Updated RX 5500 XT 8GB ETH Mining - Overclocking, Undervolting, MorePowerTool Memory Tweaks
I managed to stabilize (ASUS DUAL - Micron) at 28.3MHs on HiveOS. I didn't try to go beyond that. It's been running for a week without crashing or invalid share. It is between 45º and 50º, with consumption of 61W. Here are the overclocking settings:
FAN 50
CORE 1150
VDD 750
MEM 980
PL 70
Settings for RX 6700 XT
The first step is to lower the minimum voltage. We start at default driver ranges. And gradually we try settings of lower and lower voltage.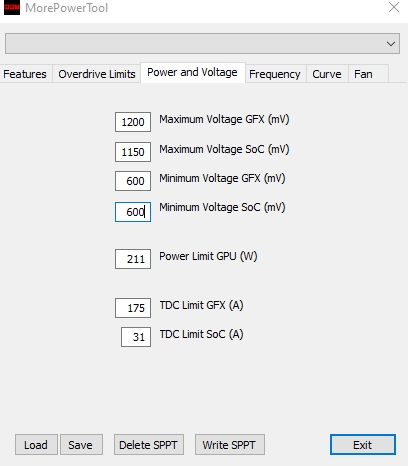 Now click on the "Write SPPT" button. Reboot your PC. After rebooting, let's see what we can get.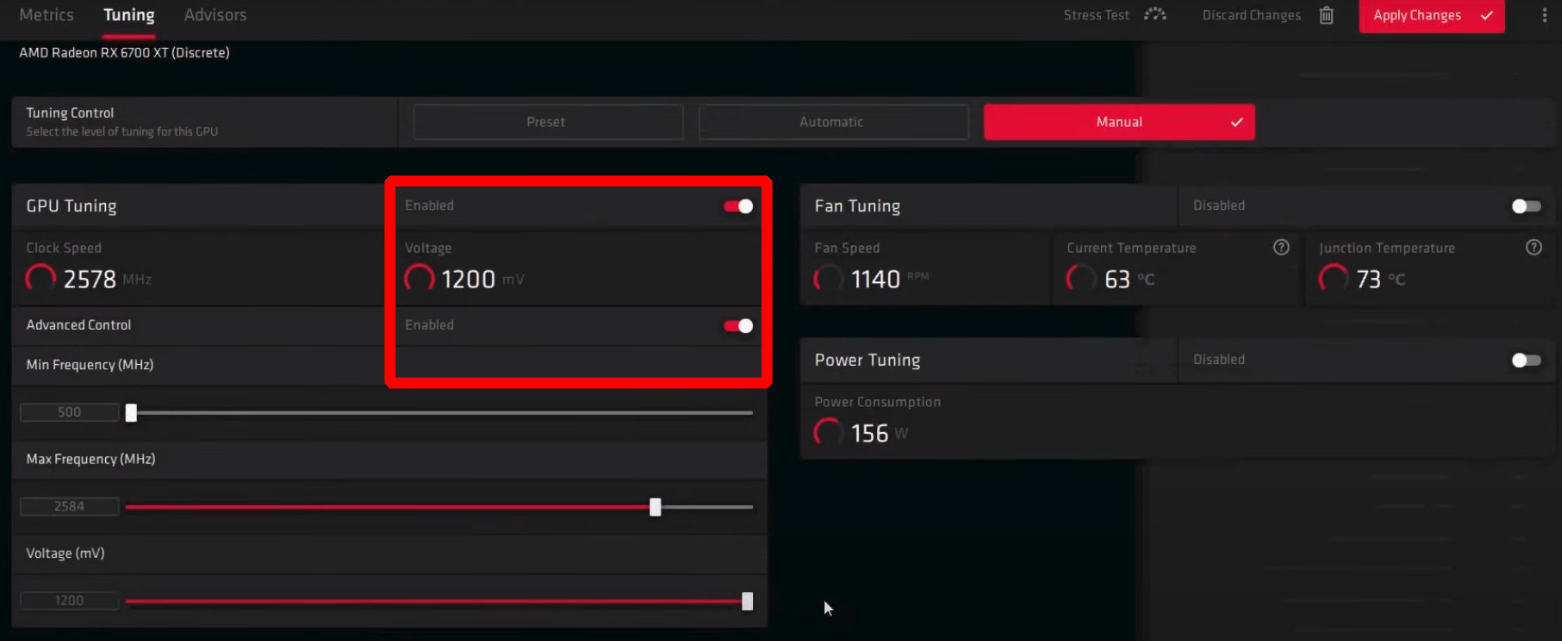 The voltage range has changed. The lower we set the core, the lower the voltage goes. And we don't even have to undervolt manually.

By the way, I did try to go lower manually. Crashes every time.
This is about the lowest I could go without droppping hashrate.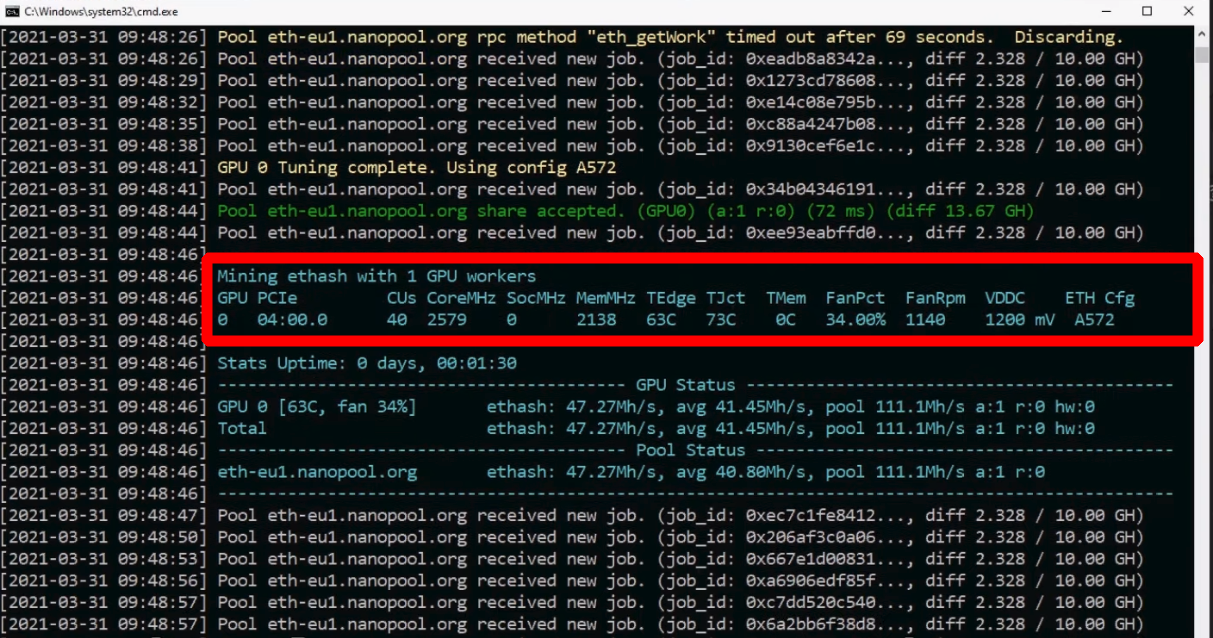 Updated RX 6700 XT ETH Mining Undervolting Overclocking.
How to get 362 Watts into a 6900XT for improved Gaming Performance.
Morepowertool is a great software to use but you got to take it easy and work your way up to find for yourself stable settings. I was able to make a profile of an mpt file for my 6900xt working at 1.35v with 550 power limit , it did work only once, after a crash during a benchmark run the system reboot itself and i was greed it with the infamous black screen and unbootable system. Never again i have managed to replicate those settings as AMD driver seems like it takes control of it 99.99% of the time. If you get a reboot while running high clocks in the middle of the benchmark , run lower core clocks and lower v.core , revert back to stable settings (The driver freaks out sometimes and goes into some kind of protection mode and make the system reboot ).
RX 6800 63mh/s at 105 Watts!
Because AMD has closed the door for increasing the power limit and voltage specifications in Wattman, you have to ultimately set the TGP and the TDC in MPT, i.e. the maximum power for the GPU and memory along with the maximum upper limit for the flowing currents. Here you should act very carefully, as long as you can't estimate in detail yourself and know how the board really reacts. For the RX 6800 the normal XT-BIOS is completely sufficient, because the preset 255 Watt or 300 A for the TDC are easily enough for a complete power consumption of 300 Watt (and a little more).
AMD hid the true power of the RX 5700... here's how to unlock it
The RX 5700's performance has been artificially locked by AMD. Here's how to access the full power of this mighty Navi GPU.
The AMD Radeon RX 5700 has played second fiddle to its RX 5700 XT bigger sibling. The more powerful card has more compute units, and more Navi cores. It's also clocked faster and comes with that stylish dented shroud. But the RX 5700 has been artificially locked down to stop enthusiasts tweaking the clocks to deliver the same performance as the XT version. If not... better.
Ultimate 5700xt Ethereum Mining Guide - best settings
The tREF/I (REFresh Interval) is basically the time window (shown in clock cycles) within which the memory can do work (reads/writes). The higher it is, the more work that the memory can do, but also the higher the risk of losing data/stability.
Overclocking Navi - Unlimited Power - Optimize your BIOS - Free Red BIOS Editor
The MorePowerTool modifies the SoftPowerPlayTables and allow the graphics card to draw more power. By doing so, you're basically bypassing the graphics card's TDP (thermal design power) limit, which should improve overclocking headroom.
Alternatives
Are there alternatives? Yes, for example:
Is there a version for Nvidia? No, but there are alternatives:
Versions
Troubleshooting
Not working
Most likely you have updated your graphics card driver. You will have to record SPPT every time you update your drivers, 20.7.1 and 20.7.2. If you want maximum stability, choose the WHQL version of the driver, currently 20.4.2.
Greyed out?
You need to get the BIOS of your card using gpu-z and then import it into the tool.
Zero RPM
If you set Zero RPM enable to False and / or set the start temperature to 20 and the stop temperature to 10 ° C, the fans will stay below 50-60 ° C. The fan speed will be reduced to a minimum if the "Zero RPM enable" parameter is set to False. For mining, you need to disable the Zero RPM mode.
New features
Added additional entries when reading BIOS, which you can now find on the first tab of the program ("features") as an additional button ("feature control"). If you click on it, you will see a window like this: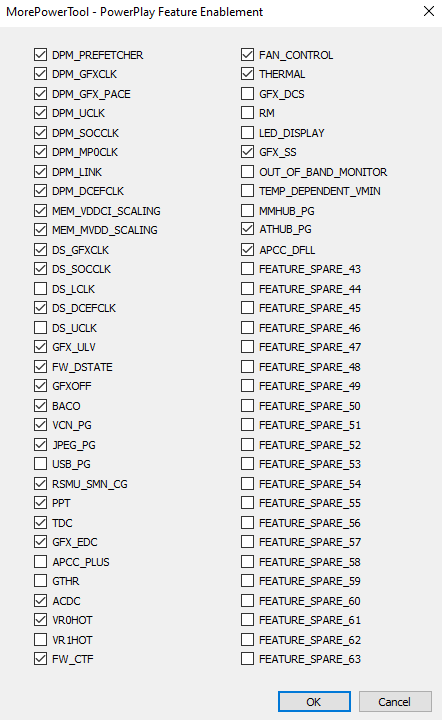 Conclusions
With this program, you can easily customize your GPU however you want. However, changing the settings too much can have a devastating effect on your GPU. If you are patient and not too greedy, you will not face obstacles.
MPT is developed by RBRT Red BIOS Rebellion Team / RTG. The most popular versions of this product are 1.1, 1.2 and 1.3. The name of the program executable file is MorePowerTool.exe.
Once you have installed the software on your computer, you can download and load the pre-installed V-BIOS, or customize your own.
If you are mining on video cards, then it is recommended to use PhoenixMiner